​Join Bettavend in helping to change lives in Rwanda
If you read our blogs then you already know that Bettavend supports The Point Foundation and Caffe Praego in their commitment to ethical coffee and tea farming that helps Rwandan children to live life and learn.


Here's how it works:
Only ethical, sustainable products are sourced, whatever the country of origin
By going direct to the farmers, the middle man is eliminated, and the farmers receive the lion's share of support and profit
This humane approach embraces, wherever possible, tea coffee and chocolate from sustainable sources, including Rainforest Alliance and UTZ certified coffees
Here's where it's working:
Kigeyo School: educating coffee-farmers' children

2,300 primary and secondary pupils go to this mountain-top school overlooking Lake Kivu. Scores of the coffee farmers' children attend. It's a large school but seriously lacks funding and resources, but improvements are happening…
A roof for the new assembly hall (walls were funded and built by parents over two years)
100 benches, 50 chairs and 20 tables
Microphone sound system, projector and screen
New library room with 2,600 text books, reference maps and globes
Four bookcases
Team kits and equipment for football, basketball and volleyball


House of Children School: inclusive education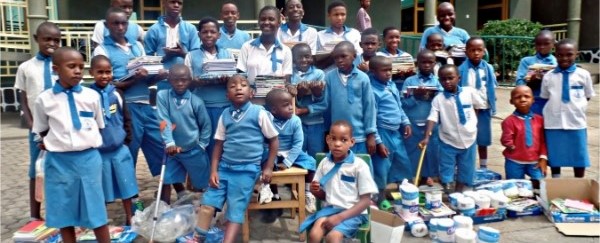 Located in Gisenyi, nearly 700 pupils attend this inclusive primary school which is part of Ubumwe Community Centre. Children of all abilities, disabilities and special needs are welcomed, and real changes are taking place…
76 children with special needs attend
All fees sponsored by Caffe Praego and The Point Foundation
Yearly sponsorships include school uniforms, sports kits, footwear, transport, lunches and milk
3,600 text books purchased in 2017
Bookcase storage for classrooms
More books scheduled for 2018 curriculum demands
Annual salaries paid for three Sign Teachers and one Nursery Teacher
Sign language taught to every pupil, hearing or not
23 street boys re-homed by Ubumwe Community Centre (youngest is five years old)
Donations were sent in December to feed and clothe them
The boys started school in January 2018, with sponsorship help. Most have never been to school
It costs £20/month to send a child to school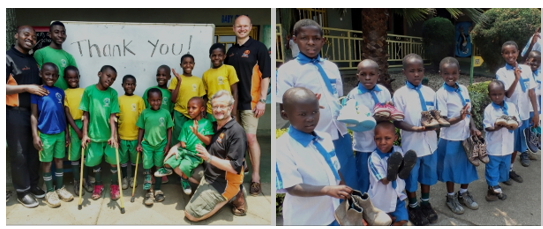 Ubumwe Community Centre: empowering disabled youth

UCC is a pioneering rehabilitation centre providing desperately needed support and services to people of all disabilities and ages in Gisenyi and surrounding villages. Here's what funding has delivered so far…
16 knitting machines
10 sewing machines
4 braille machines
Engineering equipment for workshop repairs on disability aids
Empowering disabled youth to gain job skills and independence

Germaine's Nursery School: early learning education

A poorly resourced school in a small rented building in Gisenyi, with 110 pupils. Germaine was a teacher at The Point Foundation Nursery School set up at Noel Orphanage. But resources are steadily improving…
Swings and see-saw
100 chairs, so children no longer sit on the floor for lessons
10 tables/desks
The two toilets rebuilt and connected to mains water


This mobile facility supports parents with disabled children in poorer communities around Kigali. Funds are having a big impact…
Weekly physiotherapy sessions
Parents educated in daily exercises to strengthen their child
25 children, most with cerebral palsy, are experiencing remarkable improvements
10 are benefiting from lightweight remedial chairs
Each chair costs £20 and is individually made
Goal for 2018: to sustain physio funds, and provide more chairs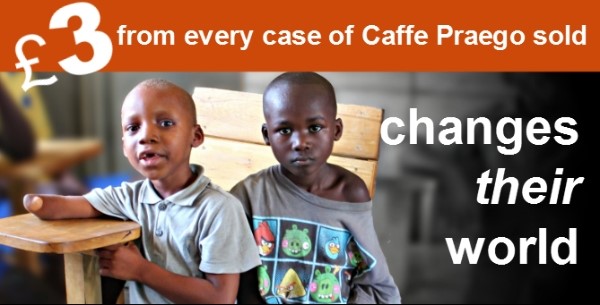 "Donations from sales of Caffe Praego are a major contribution to The Point Foundation's long-term projects in Rwanda. By investing in improving schools, teachers, inclusive education and social welfare issues YOUR support gives back to children and youth growing up in impoverished communities."
£45,000 raised in 2017? Let's beat this figure in 2018!
Why not join us in this life-changing, eco-initiative? Stock Caffe Praego products in your vending systems and you will not only keep your people refreshed and support sustainability, but also help Rwandan children create a better future for themselves, their families and their communities.
Contact us on 023 8025 5222