Tailored Solutions
We may not have an expensive shop on Savile Row but we can still tailor. At Bettavend our team draw on over 30 years of experience to bring you the best bespoke package available to suit your needs. This may not always be what you first think.
Read on to see how we will always present you the best option.
---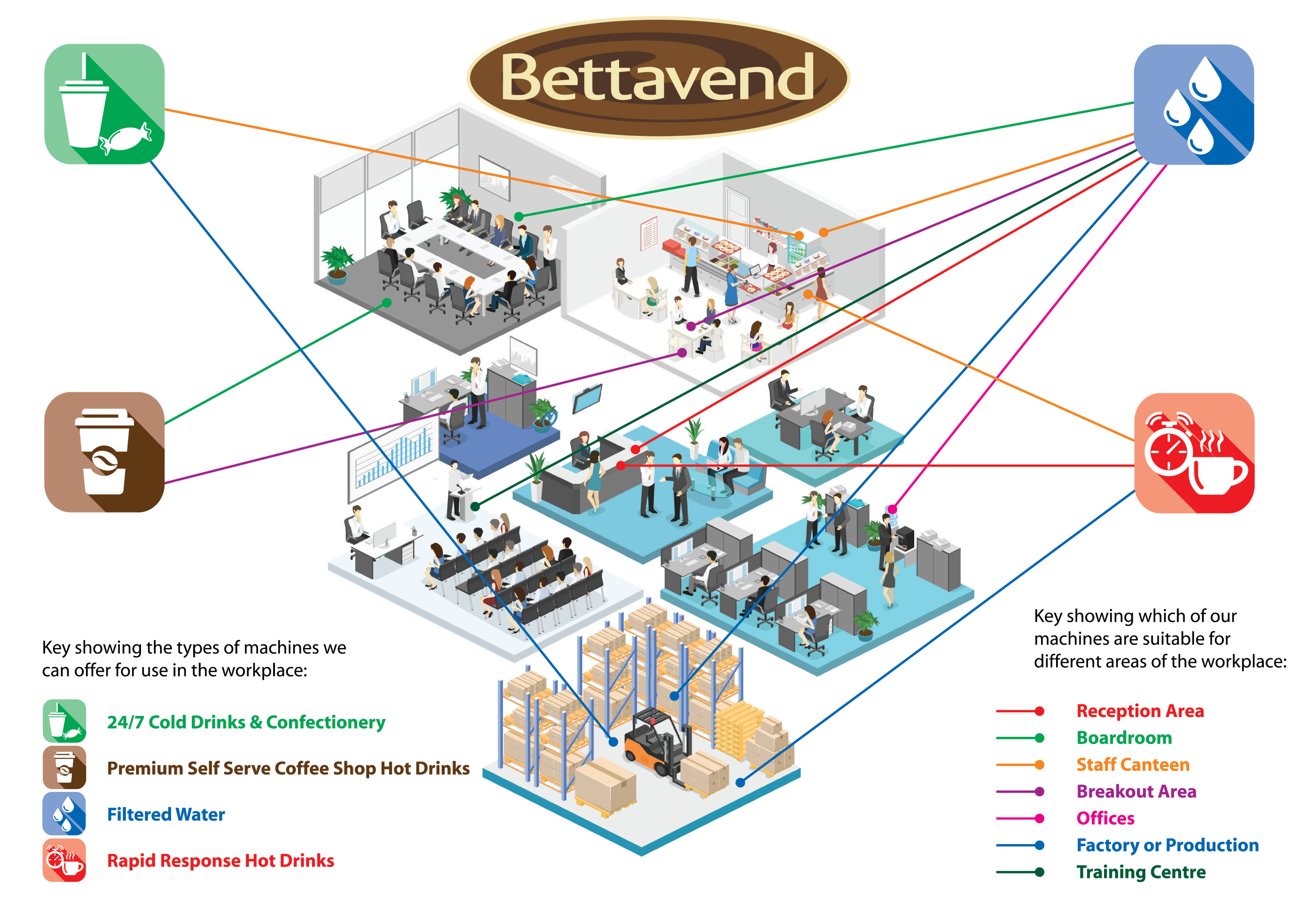 The term 'One Stop Shop' is often over used. We can't help with every problem you may have but when it comes to hot drinks, confectionery, chilled drinks and filtered water we've got you covered. We have options to suit all environments within the workplace. Whether it be cold water dispensers dotted throughout your premises, a hot drinks machine that needs to serve great-tasting teas, coffees and chocolates to staff during a short morning tea break or a chocolate bar for that 3pm pick-me-up.
At Bettavend we like to fully understand your needs before we propose any of our equipment or services. This way we can be certain that we are implementing the very best solution tailored to your specific needs. Let our team take all the stress and hassle out of vending provision for your team.
Our 24/7 confectionery machines supply the latest and greatest when it comes to snacks and cold drinks. With the added security of a guaranteed vend system fitted you can be confident that when your staff purchase something from one our machines they'll get the item they've asked for. If for any reason the product fails to vend they'll get a full refund or the option to choose another item.
When it comes to coffee shop drinks in the workplace look no further than our Premium Self Service range. Freshly ground, fully pressurised espresso drinks are just a push of a button away. No more trudging in the rain to the local coffee shop or waiting in line, bring the coffee shop straight to you.
We all know that a well hydrated team leads to a healthier team. With our plumbed Filtered Water machines you can provide fresh, chilled filtered water anywhere in the building, all we need is a potable water supply.
If time is of a premium then there's no need to wait for any of our great-tasting hot drinks. With a machine from our Rapid Response range you can have a fantastic Cappuccino, Latte, Hot Chocolate or any of our hot drinks in under 15 seconds. With well known premium ingredients such as Douwe Egbert's Pure Gold Coffee or PG Real Leaf Tea we never scrimp on quality.
Contact us or pop in for a coffee and chat
Our friendly advisers can talk you through a variety of options to find you the best solution for your business or organisation.
Contact us